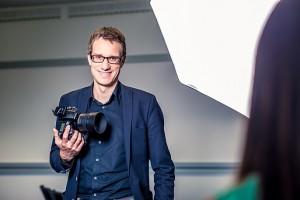 "Taking photos isn't as easy as I first thought", as photographer and owner Oskar Eyb from Stuttgart in Germany noticed standing on the sportsground with his first SLR trying to shoot motives. Today he smiles looking back at the beginning of his career as a photographer.
That was eleven years ago. Serveral publications in newspapers prove his success, so he decided to be self-employed.
"There several elements of photography which excite me, like interacting with people, different kinds of personalities, and a variety of motives which wait to be discovered.
On the other hand, photography always means learning: Complicated curcumstances are a challenge I accept. I want to catch the athmosphere with my pictures, transport emotions and enthusiasm. Studying social science and economics Hohenheim University in Germany helps me focusing on the needs of the customers – keeping a enterpreneurial view.
I assist my clients with my services presenting photos online or in classical print medias. Getting positive feedbacks motivates me again and again, so I am proud to say: "Taking photos isnt my job, it's my calling. And my ability to be inspired by new ideas, together with a good portion of self critisism, bring up astounding results.'
Personal Website: https://www.eyb.de